Global Engineers Language Skills
The Global Engineers' Language Skills (GELS) network is a common initiative between the University of Cambridge, KTH Royal Institute of Technology of Stockholm and a French research laboratory (Institut Mines-Telecom – Didalang). The objective of GELS is to enhance our future engineers' language skills in order to prepare them for the increasingly challenging demands of a globalised market.
We asked engineers across Europe (and beyond) to fill in a survey and we shared the results, our findings and further outputs through events and publications. 
One of our key objectives is to design and make available a CEFR-based guide for
language teachers who work with engineering students in HEIs across Europe. 
The first step towards the creation of this guide was to design a CEFR-based grid for engineering students and engineers. The most recent version of this "GELS Framework" can be found here: in English, in French, in Swedish, in Spanish and in German.
As a follow up to our GELS Training week hosted by the Aristotle University of Thessaloniki, the network also produced a document outlining some EMI (English as a Medium of Instruction) guiding principles. This can be accessed here.
In order to achieve its objectives, the project relies on an informal network of engineering schools and departments throughout Europe. The GELS network includes the following institutions:
If you would like to join this network, please contact us.
Publications:
Tual, D., Geslin, T. and Rinder, J. (2016). A case for LSP (Language for Specific Purposes).
Rinder, J., Geslin, T. and Tual, D. (2016). A framework for language and communication in the CDIO syllabus. 
Geslin, T., Rinder, J. and Tual, D. (2016). Le projet GELS. (In French)
Rinder, J., Ritcher, T., Sweeney Geslin, T. and Tual, D. (2020). The Global Engineer Language Skills (GELS) network: an update in Proceedings of the 16th International CDIO Conference, hosted on-line by Chalmers University of Technology, Gothenburg, Sweden, 8-10 June 2020 (pp.26-36).
Past events:
The GELS team organised the following events:
A training day at Cambridge University (U.K.) in June 2016
A training day at Poznan University of Technology (Poland) in April 2017
A training week at KTH Royal Institute of Technology (Stockholm, Sweden) in April 2018.
A training week at the Aristotle University of Thessaloniki (Greece): 24th-28th June 2019
A two-day online event (BADGE annual meeting) in June 2020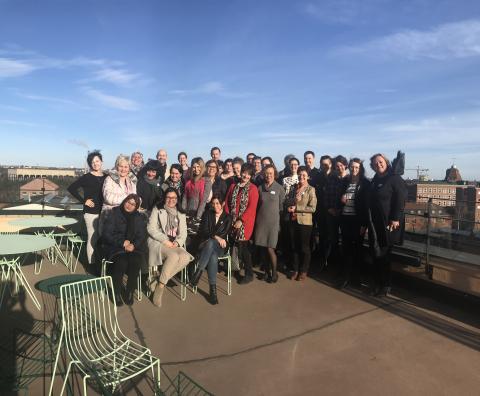 Participants at KTH Training Week (April 2018)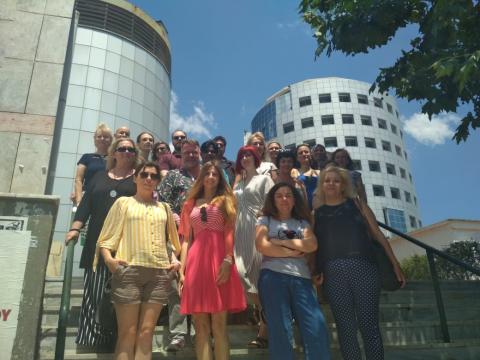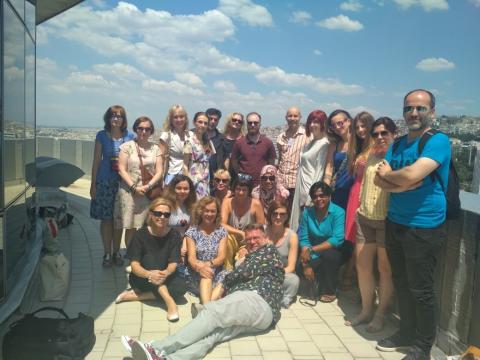 Participants at AUTH Training Week (June 2019)
Update 2019: 
14 institutions from the GELS network are currently collaborating on the BADGE project (Becoming A Digital Global Engineer).  This is a three-year Erasmus+ KA2-funded project, with the ultimate aim of inspiring language and communication education at engineering schools and departments. BADGE members will design teaching and learning materials for engineering students, and share these materials on an Open Educational Resources (OER) platform.
For more details about the BADGE project, please refer to its website.

GELS in a nutshell:
This document provides a 2-page recap of the project past and future.
GELS in the press:
An article published in Lithuania.